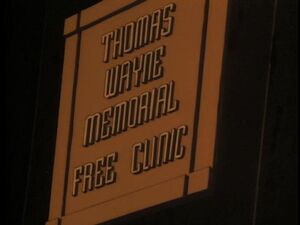 The Thomas Wayne Memorial Free Clinic is a medical center run by Leslie Thompkins in the place known as Crime Alley.
Leslie Thompkins founded the Clinic after her best friend Thomas Wayne was murdered in Crime Alley. In the clinic, Leslie offers medical attention to anybody that needs it. Batman often goes to the clinic when he finds himself in need of a trusted doctor.
Ad blocker interference detected!
Wikia is a free-to-use site that makes money from advertising. We have a modified experience for viewers using ad blockers

Wikia is not accessible if you've made further modifications. Remove the custom ad blocker rule(s) and the page will load as expected.