Batman: The Animated Series Vinyl Box Set, Disc 2 is part of the Batman: The Animated Series Vinyl Box Set soundtrack edition by Mondo Music Group. The disc compiles the soundtracks of the episodes On Leather Wings and Terror in the Sky.
Aditionally, the set includes a series of posters created by Justin Erickson of Phantom City Creative, which expand the theme of the cover art of each disc.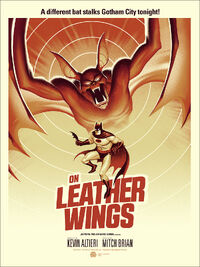 No.
Title
Duration
Sample

01.

Sub-Main Title
Batwing
Bat Attack

01:51

02.

Batman Drives to Gotham

01:00

03.

Batman Investigates
Batman Uses Infrared
Police Rush Building

01:48

04.

Batman Escapes
Batman Flies

01:48

05.

Bats
Evidence Goes Up In Smoke
The Formula
Dr Jekyll And Mr. Bat

03:01

06.

Gotham From the Air
Ride'Em Batman
Epilogue

02:16

Total

11:43
No.
Title
Duration

01.

Terror in the Sky
The Man-Bat

01:46

02.

Carpet Inspection
Batman Operates
Francine is in the Trash

01:03

03.

Man-Bat Out of the Sky
Man-Bat Chases Batman

02:36

04.

Batman Looks Through Files
March Confesses

01:20

05.

Francine, Come Home

00:51

06.

Woman-Bat Wrecks the Plane
Langstrom Out the Door

03:01

07.

Detransformation

02:21

Total

12:57
Ad blocker interference detected!
Wikia is a free-to-use site that makes money from advertising. We have a modified experience for viewers using ad blockers

Wikia is not accessible if you've made further modifications. Remove the custom ad blocker rule(s) and the page will load as expected.